Hot on the heels of Pixotope 2.0, we are delighted to deliver 2.1 including a lot of new features and enhancements as a significant boost to your creative workflows.
Here are just some of our new features:

– Body Pose Estimation
– New control panel – Experimental
– Updated AJA and BMD drivers
– Usability improvements
Body pose estimation
Body Pose Estimation allows an accurate live estimation of the pose and position of a human body directly from a video image, using an AI powered framework from NVIDIA. It provides a real-time set of 3D data points corresponding to a skeleton with bones and body parts.
You can learn more about Body Pose Estimation in our other blog here.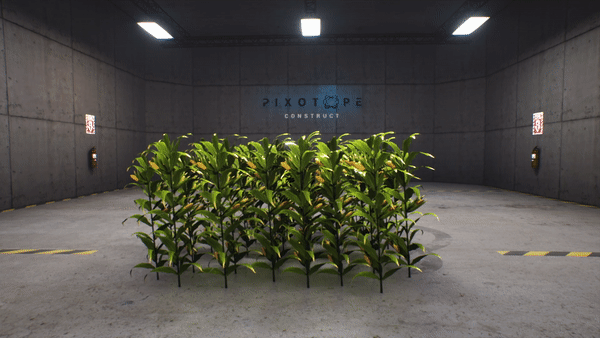 New control panel – Experimental
Our original control panel has served us well, but we wanted to extend its functionality and ease of use. This has required a complete redesign. In this first version (experimental) we have focused on:
1. Making the control panel always be in sync with the engine so that all widgets maintain their state
2. Added the ability for widgets to be controlled by the engine or by other widgets
3. Added the Tab widget allowing for multiple radio options
4. Added the Listener widget allowing to listen to engine or widget changes
5. Added the Timer widget to execute actions at a given interval
6. Added the ability to set separate Source and Target properties
7. Added the ability to copy, paste and group select widgets
8. Added the ability for undo/redo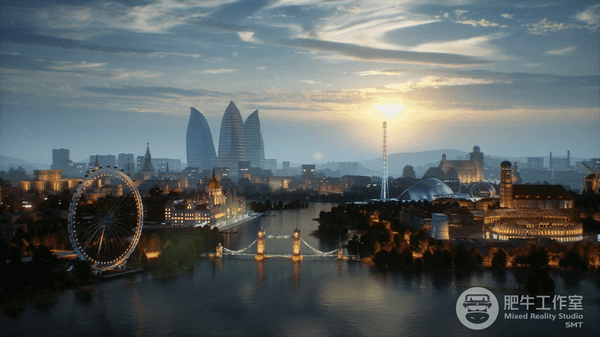 This is the first iterations and we have grand plans for its future. We welcome your input and thoughts. If you are interested in giving feedback, sharing your use cases or contributing in general, we would love to invite you to our Control Panel slack channel! Just send an email to design@pixotope.com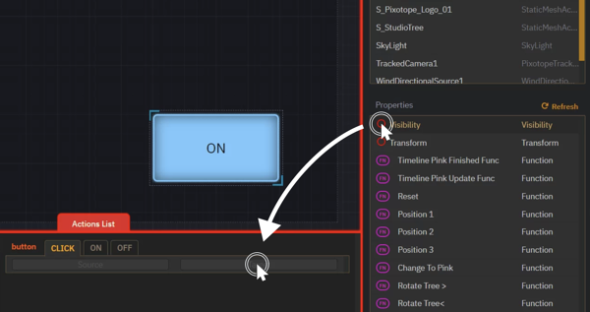 Improved video keyer
We have made major improvements to the keyer operation and its algorithms:
1. You can now pick a foreground as well as undo and redo your picks
2. The "Adjust Key Color intensity" can be conveniently controlled by just 1 slider
3. With our enhanced clean plate generation there is often no need for background adjustment as it automatically creates a good key
4. We have improved the workflow by moving respill into the video keyer panel, and enhanced the respill algorithm for automatic background
5. We have improved the contact shadows
6. We have improved support for handling blue screen stages
7. With our enhanced alpha soft edge profile we achieve better composites
8. For extra control we have refined the despill control into luma and chroma
Usability improvements
To better identify machines in a multi-machine setup, we have added the ability to set a display name and a display color!
Want to link more projects to a single show file? Add multiple project links in the Show settings.
In case one of the client machines has a different path to the project folder, this path can now be locally overridden!
Want to autostart Pixotope? Just enable it in the Machine settings.
New color space options
We have added a physical based camera model to provide a more realistic approximation to blend video footage into linear space. Our new Color space options (PX Analog Simulation Default/Soft/Strong) give a stunning richness to your composited images.
High quality supersampling and upsampling
Utilizing NVIDIA's DLSS technology we are providing an alternative to screen percentage supersampling and upsampling at a fraction of the performance overhead on modern GPUs.
Testdrive new Pixotope versions
Just a reminder. Starting with version 2.0 you are now able to install different versions of Pixotope in parallel. This way, you can try out new features without affecting your main Pixotope installation.
If you're already a Pixotope user, just log in to Pixotope Cloud and download the new version. If you're not yet a Pixotope user and would like to try any of these features, simply just fill in a Demo Request and one of the team will be in touch!
—

This article was originally published on the Pixotope blog.